Host City — Valencia
Valencia, situated in the Mediterranean coast of eastern Spain, is the capital city of the autonomous region Comunidad Valenciana. For several centuries it was the capital city of the Kingdom of Valencia, part of the confederation of kingdoms of the Spanish Crown. Currently, it has around 650,000 inhabitants.
There are two public universities: the University of Valencia, founded in 1499, with a generalist approach, and the Technical University of Valencia, focused on technical studies (although including the old Fine Arts School of Valencia). In addition, there are two new, small private universities.
Not many cities are capable of so harmoniously combining a fine array of sights from the distant past with innovative, "avant-garde" constructions now being erected. Valencia, whose founding dates go back to 138 BC, is one of these fortunate few. From the remains of the Roman forum located in today's "Plaza de la Virgen" - part of the Roman city of Valencia - to the emblematic City of the Arts and Sciences, this town has transformed its physiognomy over the years while preserving its monuments from the past.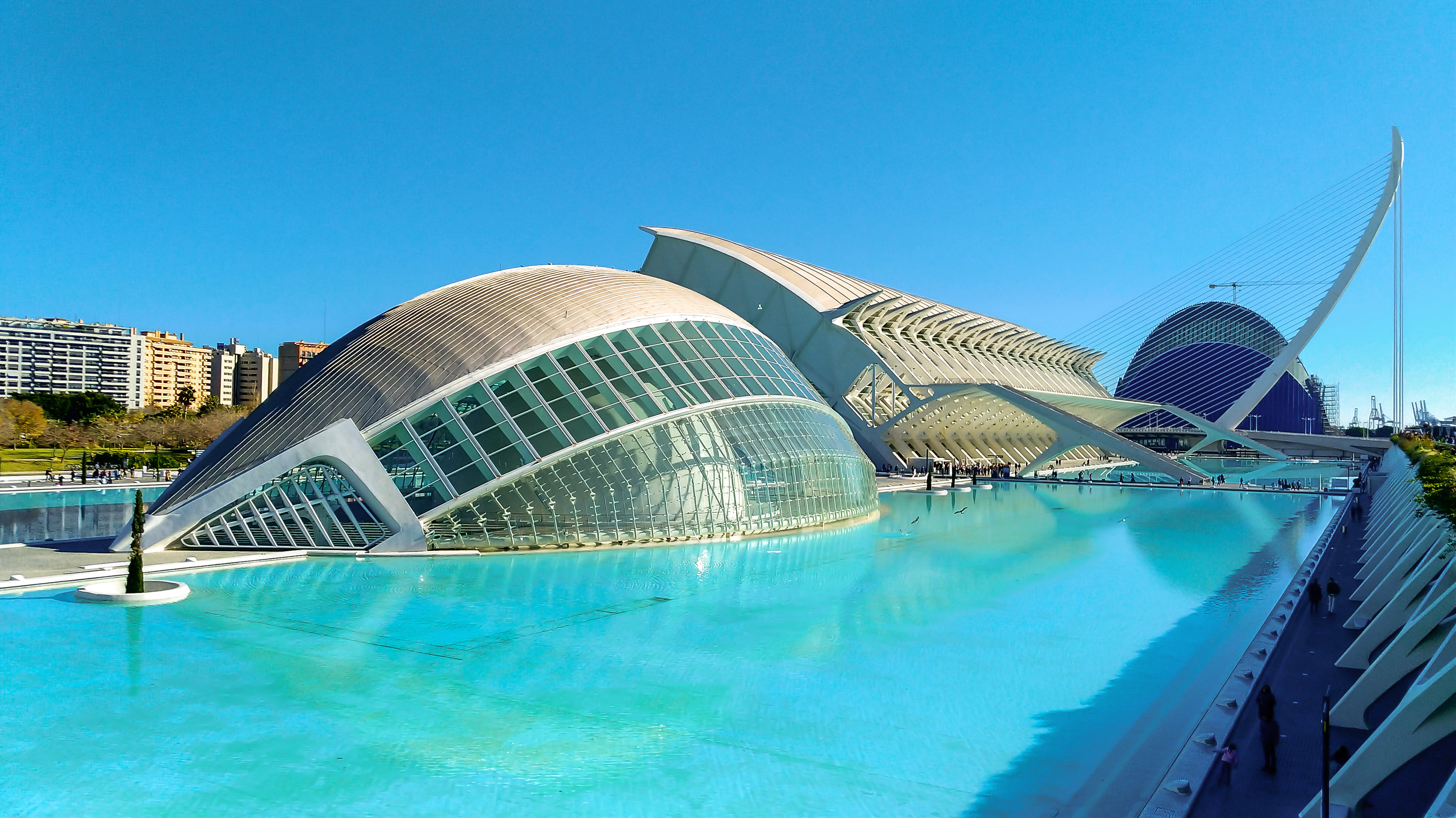 Ciudad de las Artes
Plaza de la Virgen
Sightseeing around the city begins in the old quarter. Until the mid-nineteenth century, it was defended by a wall, the inner route of the number 5 bus. Still standing as proof are the graceful "Torres de Serranos", the spacious "Torres de Quart" and some remains of the apron wall in the basement of the Valencia institute of Modern Arts.
The Market District took shape around the commercial life of the city's inhabitants. Accordingly, its two most emblematic buildings are used for trading purposes. The Gothic building of "La Lonja", declared by UNESCO as a heritage of humanity, features a beautiful columned room where the old tables on which trading transactions were finalised are still in use today. On the other side of the Turia's old river-bed lie the nursery gardens, along with the Fine Arts Museum and the modern part of the city. The futuristic face of the city is mirrored on the old river-bed through the Gulliver Children's park and the leisure and culture complex "Ciutat de les Arts i de les Ciencies". Life in the city spreads down to the seafront with the harbour and the beaches of "Las Arenas" and "La Malvarrosa".
Valencia was the Host City of the 32nd America's Cup at 2007, the most famous boat race in the world.
Torres de Serranos
Playa las Arenas
Sites of Interest:
Ciudad de las Artes y las Ciencias